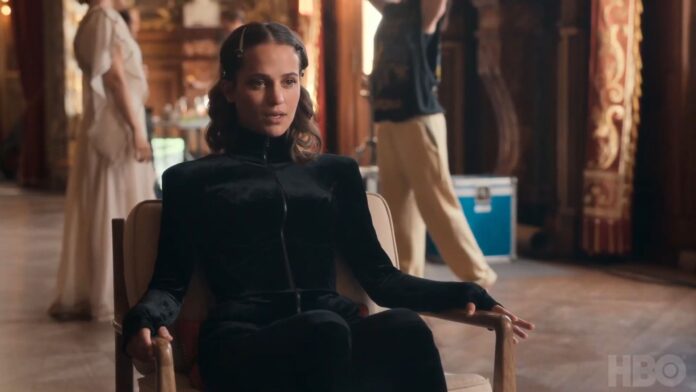 After a glorious world premiere at the Cannes Film Festival 2022, Irma Vep – life imitates art arrives in Italy, starting from August 3, on Sky and NOW. The series resumes and expands a universe created and brought to the screen by Olivier Assayas in 1996, when he presents his film. Years later, the French director returns to that story, expanding it and dilating the world of Irma Vep, escaping the label of remake or sequel and developing in a series of 8 episodes of 50 minutes not only the metatextual concepts that were already addressed in the film, but adding a contemporary eye and making use of a cast extremely devoted to the characters it brings to the stage.
Irma Vep – life imitates art, plot
The story is that of Mira, a Hollywood blockbuster actress who is about to participate in a production that wants to re-enact a cult series for French audiovisual culture. We are talking about The Vampires, a 1915 serial that has become an iconic, at times cursed, point of reference for the Surrealists.
Irma Vep – life imitates art, metatextuality
What is the main point of interest in this series? Definitely meta-textuality. Irma Vep – life imitates art is an investigation into the film industry and the star system that recounts the remake of an iconic series which, even in real life, has an important artistic value, while simultaneously with filming the characters played by actors slip into the characters they themselves interpret.
The amazing cast of Irma Vep
A game of Chinese boxes that is mainly held up by the cast, particularly in harmony with the scenario made available. Particularly Vincent Macaigne, as the director of this unusual adventure, who engages in a one-by-one remake, with moments of great poetry and lyricism alternating with grotesque gestures and tones. Next to him, the real star of the series, Alicia Vikander, who also appears among the Producers of the television project and who offers one of his best career performances. The sweet face of a child allows flashes of sudden sensuality, as if it were a snake that jumps on her prey, together with an unfathomable depth of gaze that increases that feeling of being faced with a disoriented girl who, however, hides a secret. In short, an elegant and refined ambiguity, that of Vikander, which seems to be perfect for staging Mira, who in turn slips into Irma Vep and makes her his own, possessed by this charismatic and sensual character, so much aware that arouse fear in the men around her.
Assayas moves nimbly between these storytelling planes, sometimes showing his side to the interpretation itself and making it the protagonist of the scene, sometimes to what it means to make art today, or to what could be done if the industry weren't so castrating and bigoted. Irma Vep – life imitates art it is a free look at the constraints of creative effort, through a story within a story and a lucid yet passionate eye.
Irma Vep – life imitates art: review of the series with Alicia Vikander